12/15/2012 Caves and Birds -Brewer Lake
NY 1 5.00
This was supposed to be an easy trip with my buddy Ian last weekend. Due to circumstances beyond our control we postponed it to this weekend. I got an early start and headed in to brewer Lake. It is a relatively short hike in... a gradual uphill the entire way except for the last quarter mile. Easy trail which doubles as a snowmobile trail in winter. I wonder where I will park in the winter. Once at the lake, I began the bushwhack around to the secret campsite. The rocks here make some great caves and overhangs. The firepit has been meticulously maintained as well as the rest of the site. While waiting for Ian to arrive I heard a knocking on the other side of the boulders. I inched closer to see what was making the noise when a decent sized bird flew out towards the lake. I only caught a glimpse until he rotated around the tree trunk from where he landed. His profile was unmistakable as was his color. It was a pileated woodpecker! I have seen them more and more often the last few years. This site must not be used by many as there is plenty of downed firewood close by. The trailhead register shows most people only day hike to the lake. few probably even know about this campsite. My bet is just the locals who use the hidden canoe to get to it. The canoe is gone now, either hidden in a new spot or brought home for the winter. I am certain to carry in my canoe next summer. With a fire going, I began to cook up some bratwurst. I received a text from Ian. Work has delayed him for too long and he won't make it. He was quite disappointed. I finished my dinner and relaxed by the fire. The sun was setting and the air was cooling down quickly. As the day turned to night, the sliver of moon appeared as did the stars. I was hoping to catch a few remnants of the Geminids in the early AM. I went to be early and awoke while it was dark. the sky had turned cloudy and no meteors would be seen. Back in my cocoon, I fell back asleep. The glow of the AM was my sign to arise. A quick cup of cocoa and I packed up.
11/25/2012 Thanksgiving Weekend -Moss Lake and Queer Lake NY 2 11.00
Thanksgiving is typically experienced traveling across the town, state or country and sometimes to multiple locations. Often people are invited and no one knows who will show up or when, if ever. Some will have to leave early... plans change. Food is incredible. People bring dishes to share, there are often many different libations and in general, there is a lot of food and drink.
Well this Thanksgiving weekend trip had all the above. Starting Thursday AM, George (from hf.com) and I met at the Moss Lake trailhead and hiked around the lake to find a good site for the day. After setting up camp and eating some lunch we decided to scrampble up the rocky North side ridge. This was steep, real steep. The leaf litter made it quite slippery and also hid the broken-ankle-pockets between boulders. After climbing up a few hundered feet and looking over Moss Lake (and catching our breath) we headed back to camp. Dead and down firewood was plentiful and we started a small fire. I heated up some packets of thanskgiving dinner (leftovers from my Wed night turkey dinner) and we drank our own libations. The sun set and the stars appeared as did the bright moon. In an area which gets much summer traffic we had the place to ourselves except for the few day hikers which passed by seemingly unaware of our presence. Morning broke to a blazing red sunrise over the lake. George toyed with his new camera, the shots will certainly come out nicely. We packed up camp and headed out to the Queer Lake trailhead.
The plan was to meet Ian here and then we would hike in to Queer Lake with possibly Erik arriving later. A message from Ian indicating car trouble and letting us know that he wouyld meet us at the campsite. So george and I began our hike in. In not to long we were removing some layers since the day was beginning to warm ... as were we. We stopped and chatted for a while and soon heard voices. Not far behind us was Ian and Erik. We saddled up our unusually heavy packs and all 4 continued on the everchanging terrain of this trail We crossed numerous creeks and hiked up and down ridges for apparently no reason. We soon made it to Queer lake. But as its name suggests, the lake is strange. We needed to hike another mile to get to a point only a few hundred feet away. This was due to the odd shaped shoreline of the lake. At camp we set up, relaxed and the reasons for our heavy packs soon appeared. Erik with a gallon and a half of a good german beer, Ian with turkey, mashed potatoes and gravy along with a few dozen hot dogs and rolls, George with a few bottles of a nice whiskey and enough summer sausage for a small army, and myself with enough steaks that we would have to carry out at least 2 pounds of uneaten beef the next day. Wood here is scarce as the campsite is in a grove of hemlock, so we had to travel a bit to gather some good stuff. We soon had a fire going, beer was flowing and food was being consumed. We barely even noticed the weather had turned sour. It was raining and windy, but we were smiling and joking around. Most likely alcohol induced. At some point in time, no one really knew we were in bed. Erik in the leanto and the other three of us in our hammocks. The overnight weather was a mix of everything mother nature could throw at us. We awoke to a few inches of snow and a chilly temp.
It wasn't until after george and I got a fire going did Erik decide to extricate himself from the warmth of his sleeping bag (either that or his bladder won out) and we heard Ian rustling about. It was later int he AM than we had expected and we discussed the plans for the day. Ian had had a rough night due to his back, so we decided to spend the day and then head out. We cooked up a bunch more of the food and looked at he remaining beer. Concern that we would have to carry out unfinished beer was a depressing thought which vanished when a a couple of day hikers showed up. They were impressed with the steaks cooking on the rocks and although they didn't take advantage of our generosity in that area, they did accept a beer. I suppose they heard our pleadings that we didn't want to carry it out. With full stomachs and the snow again beginning to fall we headed back. It took us quite a bit longer to get out even with our now much lighter packs due to Ian's back injury. But we did eventually make it. Thus ended my annual thanskgiving trip to Queer Lake and my first snow trip of the season. Between the snow, the bright moon, the winds, and Ian's injury it all reminded me of my favorite writer, Robert Service and his well known story the Cremation of Sam McGee.
There are strange things done in the midnight sun

By the men who moil for gold;

The Arctic trails have their secret tales

That would make your blood run cold;

The Northern Lights have seen queer sights,

But the queerest they ever did see

Was that night on the marge of Lake Lebarge

I cremated Sam McGee.
10/21/2012 The Queen of the Woods -East Pine Pond NY 1 19.00
Looking at the 1910 USGS map of the HaDeRondah wilderness shows a "road" which cut through the major "trail" section of the northern zone. Trail is in quotes due to this being a minimal maintenance area so it is not your typical trail. The DEC even posts that significant orienteering skill may be necessary to navigate the area. So I contacted my friend justin who, like me, enjoys bushwhacking and trying to find old trails, and camps. I sent him a simple message, "Look at the 1910 USGS Map for Thendara, do you see what I see?" He replied immediately, "When are we going?" This past weekend would be past peak for the leaves, so it would be easier bushwhacking as all the hobblebush would be clear and out visibility would be at a maximum. We met at the TH at 8:30 and hiked into East Pond where I stayed a few weeks ago. We then continued on to Blackfoot Pond to check it out. It really should be called Blackfoot pondS as there are a couplee small ponds all in the one area. We didn't find a spot to camp that was better than East pond (though we did find a neat waterfall cascading down from the ridgeline towards one of the ponds. Back at East, we setup camp and had lunch. With daybacks we hiked back to the junction and made our way down the little used trail. Recent rains had made the trail quite sloppy and the beavers don't help either. After a mile or so, we looked for any signs of where an old "road" would be. Not seeing anything, and not really expecting to, we took a bearing and headed along the contour of an unnamed hill which the "road" hugged. We moved up and down the contours attempting to find any terrain which a road would have used. A few times we thought we might be on it, but the thought quickly dissipated. we held our bearing for a while and then realized we needed to be a bit farther East, so we took a bearing and headed "down" the contours from which we then recalibrated and followed the contour around the hill. We kept our eye on our compass as we knew our heading would be slowing shifting from south to west. Once we were heading west along the southern shoulder of the hill, we could see the next hill in the distance. At the notch netween the two, the countour would be heading almost due north and this would be our aid to head down the contours to the marshy area. At the notch, a small stream was flowing, which really wasn;t a surprise for this area. We followed it down to the just above the marsh and then stayed the ridge just above the marsh. This was the area in which the old maps showed the camps. Seeing a few promising places, but nothing significant we continued to the next rivulet and crossed it to catch a view of the meadow here. At a high point just above the meadow was a nice vantage point so we climbed up the few feet. One could quickly see why hunters of old would travel and camp here. At this vantage point was also a single old growth White Pine. She majestically stood watch over the meadow. I dubbed her the queen of the woods. We sat beneath her and had a snack. We wondered aloud whether the old hunters also sat here gazing over the meadow awaiting a prized buck and what stories the Queen held.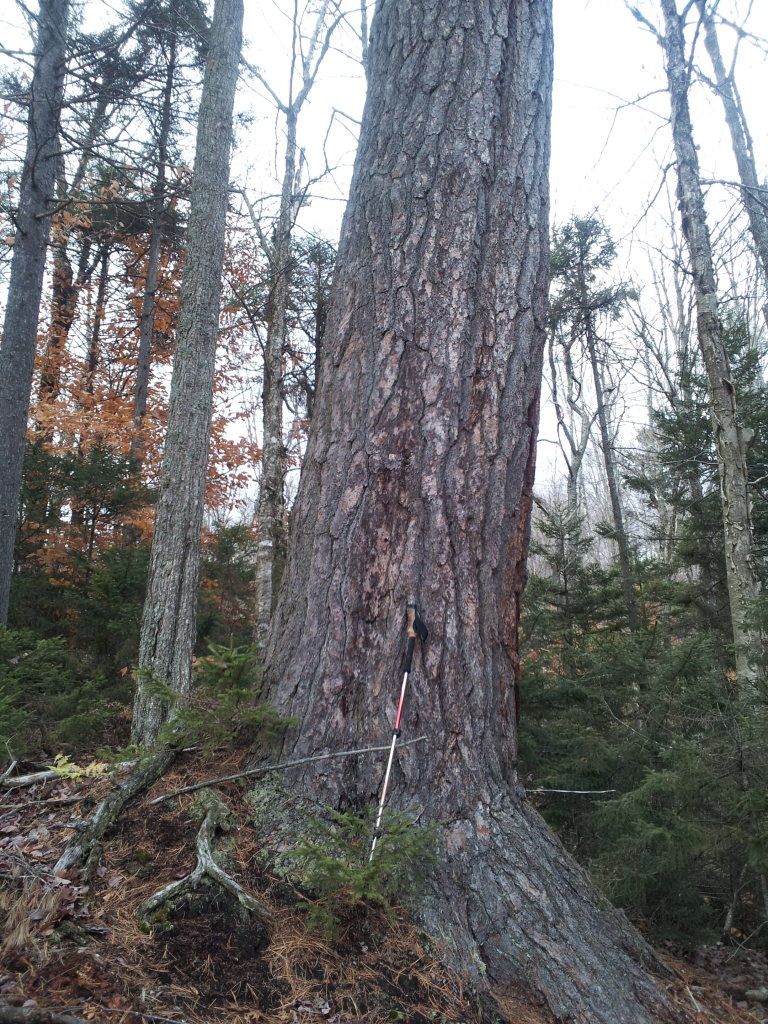 We decided to head back as we had less than two hours of sunlight left. We slowly retraced our steps along the area of the old camps looking for any signs. we discovered a cliff face in the area which I am sure the old hunters would have also explored. Back at the notch, we decided to use it as a handrail to the North and back to the "marked" trail. The terrain wasn't easy, but it would be much shorter than our original approach. We hit our mark right where the topo said we would and quickly made our way back to camp. We were both tired and Jenny's (the dog) pads were getting tender. At camp we started a fire, got dinner going and reminisced about our off trail adventure. While we didn't find any signs of manmade history, the cliff and majestic white pine made the trip all worth it.